Engage 2023: The Cost of Failed Discipleship
April 28–29, 2022 (Friday and Saturday)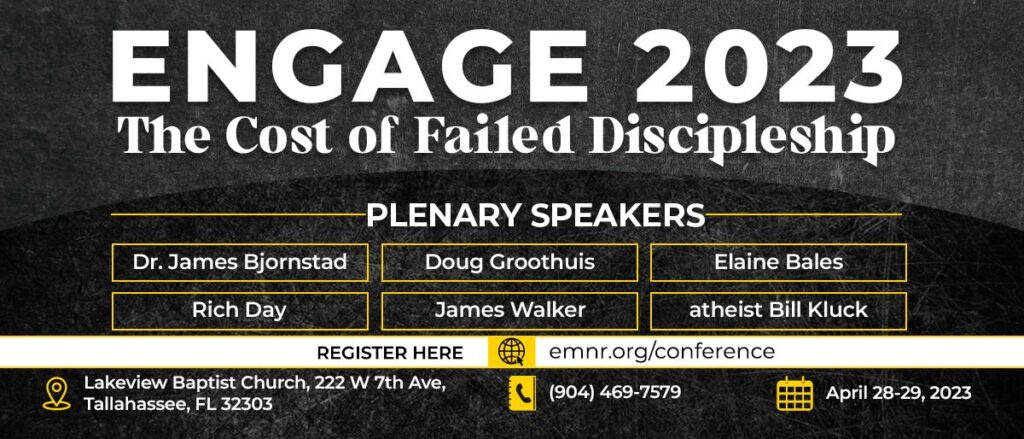 Workshops will include presentations on non-Christian religions, pseudo-Christian cults, evangelism, and trends away from the faith in the Christian church.
Lakeview Baptist Church (http://www.lakeviewbaptisttallahassee.com)
222 W. 7th Ave
Tallahassee, FL 32303
Phone: (850) 222-5946
Conference Speakers and the Program (both Plenary Sessions and Workshops)
Please Register to Attend
Registration for the conference is free. However, we need to know how many people will attend in person, to plan for parking, name tags, refreshments, volunteers, etc.. Please register here.
There are no admission fees, but free-will offerings will be taken at the plenary sessions.
Live Stream
All plenary sessions and selected workshops will be live-streamed from both our YouTube channel and EMNR on Facebook.
Hotel Arrangements
For those traveling, we have arranged a discount price at this hotel:
Best Western Plus Tallahassee North Hotel
Best Western Plus web site
2727 Graves Road, Tallahassee, FL 32303
(850) 562-7200
The conference rate is $129 per night for a room with a Standard King or two-bed room. Each room has a microwave, mini-fridge, and a coffee maker. A complimentary hot breakfast is included. When booking your stay, request the conference rate for the room block "EMNR-Inc" or use this hyperlink: https://www.bestwestern.com/en_US/book/hotel-rooms.10399.html?groupId=7I0FX8L8