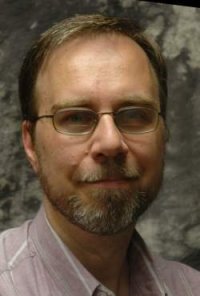 Eric Pement (M.B.A., M.Div.) currently serves as EMNR's Executive Director, Secretary, and Treasurer. He has been a member of the Board of Directors since 1987, serving as President (2000–2001), Vice-President (2006–2009), and Secretary (since 2008). He was Executive Director on two previous occasions (1989–1992 and 1996–1997).
He edited Contend for the Faith: Collected Papers of the Rockford Conference on Discernment and Evangelism (1992). He and co-author Craig Branch wrote the Manual of Ethical and Doctrinal Standards for EMNR (1997), the foundational document for the moral conduct of EMNR members and candidates.
Eric has written and taught about religious movements, the occult, world religions, and Christian apologetics for many years. He began writing about well-known and little-known sects for Cornerstone magazine, eventually advancing from assistant writer to executive editor. He directed the Cornerstone Apologetics Research Team from 1991 to 2000, and taught on new religions for nearly 20 years at Jesus People USA and Cornerstone Festival.
For four years he was on the steering committee of the Tanner Annual Lectureship on Cults (named in honor of Jerald and Sandra Tanner), held at Trinity Evangelical Divinity School. In 1985 he compiled the Directory of Cult Research Organizations, later to be joined by Keith Tolbert in a project to locate every active cult research group in the English-speaking world. The last edition of this series was published in 1996. In 2000, Eric was part of the core committee that drafted the Chicago Declaration on Religious Freedom, a noteworthy document signed by Chuck Colson, Bill Bright, Franklin Graham, Carl F.H. Henry, J.I. Packer, Kay Arthur, Richard Land, and hundreds of other Christian leaders.
From 1988 to 2018, he served on the board of directors of the Institute for Christian Apologetics (Rockford, Illinois), founded by the late Kevin S. Johnson and now directed by evangelist Phil DelRe. Since 2006, he has been a Research Associate for the Centers for Apologetics Research (San Juan Capistrano, Calif.), contributing to research projects from time to time. He administers a Facebook discussion group called "Islam and Christianity: The Points of Tension." Several years prior to that, he and Rowan Moonstone co-moderated an animated discussion forum on Witchcraft and Christianity, where participants on both sides learned to ask questions wisely and post factual messages without antagonism . . . hopefully, with less antagonism than they had at the start.
On the home front, Eric and his wife Barbara have been happily married for nearly forty years. They have three adult children, who are Christians. Two of them live internationally. Feel free to pose reasonable questions to eric[at]emnr[dot]org (address split up to prevent email harvesting; please reassemble as needed).